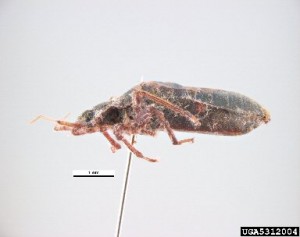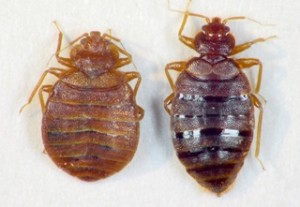 Most people find bed bugs (Cimex lectularius) a most disagreeable houseguest. These parasites are usually no more than ¼ inch in length in their adult state and can engorge themselves with human blood in less than 15 minutes causing their bodies to fill to as much as three times its usual size. Fully engorged bed bugs bear little resemblance to their original state and are often thought to be a different insect altogether.
Bed bugs can lay between one and five eggs per day with an incubation period of 10 days in warm weather (slightly longer when cool). These newly hatched bed bugs will require five significant blood feedings to reach adult size. They will molt in between feedings by shedding their exoskeleton. One mature they will begin the process of laying new eggs.
Adult female bedbugs can lay more than 200 eggs during their lifetime and the new generation of bed bugs will immediately seek a blood meal and they might be looking at you through hungry compound eyes. When they are finished eating they leave tiny sores to remind you of their midnight binge.
There are other types of bed bugs including the bat bug, the chimney swift bug and the swallow bug. All of these relatives survive on blood feeding, however these secondary parasites thrive on either bats or birds as their primary victims.
Bed bugs feed on the blood of human beings but can suck blood from other animals as well. Birds and mice are the most common animals. Bed bugs most often feed at nightime when people are asleep. When they feed, they inject a salivary secretion into the wound to prevent coagulation. The fluid can cause a person's skin to itch and even become swollen. Scratching can cause sores which often become infected. Bed bugs are not known to transmit any human blood-borne pathogens.
An adult bed bug is about 1/5-inch long, oval in shape and flat. They're generally brown except after sucking blood. Their body then becomes swollen and the color changes to a dark red.