BedBug Bites & Concern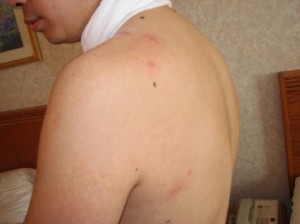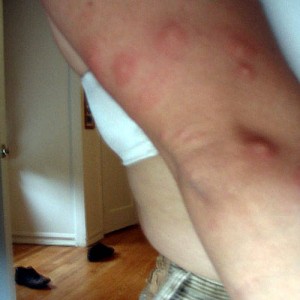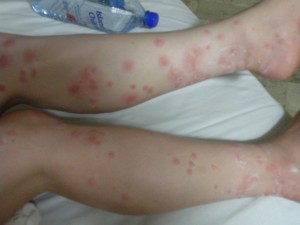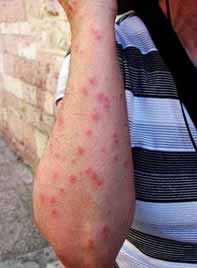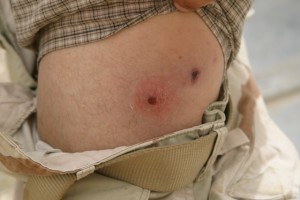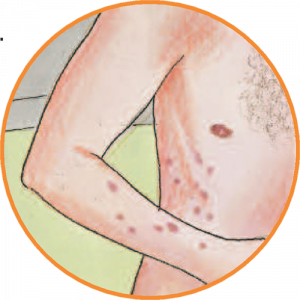 Bed bugs usually bite people at night while they are sleeping. They feed by piercing the skin with an elongated beak through which they withdraw blood. Engorgement takes about three to 10 minutes, yet the person seldom knows they are being bitten. Bed bugs normally do not reside on people like head or body lice - immediately after feeding they crawl off and reside elsewhere to digest their meal. Symtoms after being bitten vary with the individual. Many develop an itchy red welt or localized swelling within a day or so of the bite. Others have little or no reaction, and in some people the reaction is delayed. Unlike flea bites that occur mainly around the ankles, bed bugs feed on any skin exposed while sleeping (face, neck, shoulders, back, arms, legs, etc.). The welts and itching are often wrongly attributed to other causes, such as mosquitoes. For these reasons, infestations may go a long time unnoticed, and can become quite large before being detected. The likelihood of bed bugs increases if the affected individual has been traveling, or had acquired used beds or furnishings before symptoms started to appear. Bed bugs also are suspect if you wake up with itchy bites you did not have when you went to sleep. Conversely, it is important to recognize that not all bites or bite-like reactions are due to bed bugs. Confirmation requires finding and identifying the bugs themselves, which often requires the help of a professional. (Other possible sources of irritation are discussed in University of Kentucky entomology fact sheet ENT-58; Invisible Itches: Insect and Non-Insect Causes).
A common concern with bed bugs is whether they transmit diseases. Although bed bugs can harbor pathogens in and on their bodies, transmission to humans is considered unlikely. Their medical significance is chiefly limited to the itching and inflammation from their bites. Antihistamines and corticosteroids may be prescribed to reduce allergic reactions, and antiseptic or antibiotic ointments to prevent infection. Though not known to carry diseases, bed bugs can severely reduce quality of life by causing discomfort, sleeplessness, anxiety, and embarrassment. Conventional insect repellents, like those used to deter ticks and mosquitoes, do not appear to be effective against bed bugs. Attempting to avoid being bitten by applying insect repellent at bedtime is not recommended. Sleeping with the lights on is not likely to deter hungry bed bugs either.