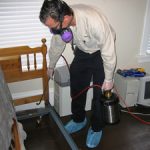 Until quite recently, bed bug extermination was very rare among pest control services because after the mid-twentieth century they had seemed to go almost extinct. In recent years however, bed bugs have made a strong comeback, and luckily pest control companies have adjusted to this. Now, almost every pest control service has some sort of bed bug expertise available for homes, businesses, schools, and hotels. Bed bug pest control and exterminators can vary in experience, and it is important to schedule a free inspection with bed bug experts.
Here is what you can expect from our bed bug pest control consultation:
1.) After scheduling a free inspection with us, we will get back to you quickly, possibly with additional questions about the infestation, and a confirmation of the consultation date and time.
2.) During the first inspection, our bed bug pest control experts will investigate where the bed bugs are living, and the level of infestation. Each home or business could vary greatly in how many bugs they have, and how well-hidden the bed bugs are. This first appointment will give our bed bug exterminator a good idea of how best to eliminate the bed bugs in your home. When this consultation is over, the bed bug pest control experts will give you a brochure and directions of how to clean your home for the extermination.
3.) Be prepared to clean your home thoroughly using our bed bug removal and bed bug preparation guides. This includes, knowing where to look for hiding places where bed bugs hang out during the day and reproduce, properly scrubbing infested areas to knock off eggs, vacuuming up eggs, nymphs, and adults, and properly sealing up infested furniture, appliances, toys, clothing, linens, etc. These steps will allow bed bug exterminators to spray isolated areas and kill off the bed bugs. REMEMBER: do not seal up infested areas until after the initial free bed bug inspection. This step should be done after the first consultation in which bed bug pest control experts will evaluate the level of infestation, and before they return for full extermination services.
4.) After you have cleaned and sealed up everything, the exterminator will come with spray, ready to treat the infested home or business. The entire area, including each room, will be treated with residual chemical insecticide that will kill the bugs in its path. It often takes 4-6 hours for treatment. The spray used has very little odor and color. It does not stain, and it kills bed bugs upon contact, so it is important to clean infested areas very well before treatment.
5.) Clients will be instructed to wait outside of the treated space for a 2-3 hours, while the treatment does its work to kill the bed bugs. Finishing errands or going to a friends house is a good way to pass the time. After the first treatment, certain materials such as bedding and couches may take a few hours to dry. We recommend using a fitted sheet and flat sheet on the mattress.
6.) It usually takes about 3 to 5 weeks before the bed bug infestation is eradicated, and bed bug pest control will have to return several times to spray and monitor the infestation. As stated before, it is very important that you clean everything in the home as properly indicated by the bed bug exterminator, so as to avoid the risk of resurgence of the pests.