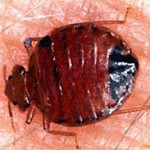 CBS NEWS: Decades after bedbugs were eradicated they're making a big comeback. Terminix - a nationwide exterminator - said Wednesday that New York and Philadelphia have the biggest infestations and four cities in Ohio are in the top 15.
There is something that can stop bedbugs but we can't use it. Fighting the tiny bedbugs has become big business for Columbus, Ohio, exterminator Lonnie Alonso, who has no idea why his state is under siege.
"Eighty to 90 percent of the phone calls we get every single day are related to bedbugs," says Alonso.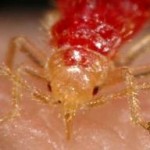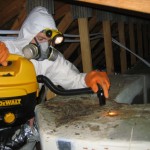 MSNBC: Bedbugs -- wingless insects that feed on the blood of sleeping animals -- invaded stores of Abercrombie & Fitch Co., Victoria's Secret and Nike Inc.'s Niketown in New York City last year as well as hotels, offices and homes.
The insects can cause reactions through bites, as well as blister-like skin infections and, in rare cases, asthma and anaphylactic shock, according to a report in the Journal of the American Medical Association.
ABC NEWS: According to New York City's Housing Preservation and Development department, bedbug complaints in the city have skyrocketed over the past five years, from just over 500 in 2004 to over 10,000 in 2009. In June, the New York state legislature passed a law requiring landlords to give potential renters a "bedbug history" of their property.
Bedbug City: 1 in 10 New Yorkers has grappled with bedbugs in their home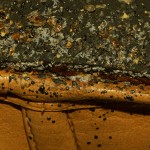 Bedbugs are taking over New York.
A new Daily News-Marist poll suggests that The City That Never Sleeps is probably too busy itching: One in 10 New Yorkers has now battled bedbugs in their home.
That's twice as many as the city estimated were plagued by the pests in 2009.
The poll results suggest that more than 800,000 New Yorkers have had bloodsucking bedbugs crawling in their sheets.
"I got all chewed up," said Margaret Martinez, 61, of the Bronx, one of the 11% of poll respondents who reported having personal run-ins with the tiny bloodthirsty insects. "I woke up and I had bites all over my arms and my face. I was all swollen," she said.
From swanky glass lofts to creaky tenement walkups, the plague of parasites appears to have spread fairly evenly across the five boroughs.
But money makes a difference: Twice as many people who made less than $50,000 a year had bedbugs, compared with those with higher incomes. Only 2% of Republicans had bedbugs, while 12% of Democrats did.
Though infestations at downtown hotels and boutiques get most of the attention, Manhattan is the borough with fewest workplace bedbugs, according to the survey conducted by the Marist poll for the Daily News.
Ten percent of respondents in Queens, Staten Island and Brooklyn reported bedbugs at work, as did 8% of Bronx residents, but just 3% of Manhattanites were afflicted.
Bedbugs are hard to see and hard to kill. The size of a rice grain, they only move around at night and can go many months without feeding. They spread by hitching rides on clothes, luggage or used furniture.
Nearly eradicated by DDT in the 1940s, they are back - and extra pesticide-resistant.
Upper West Side City Councilwoman Gale Brewer said panicked bedbug calls to 311 shot up 33% last year.
"Our phone rings off the hook with bedbug questions," she said. "There are many other stores with bedbugs out there that are not in the press."
The city recently allocated half a million dollars in anti-bedbug funds and is considering naming a bedbug "czar" so New Yorkers can sleep tight.
The News poll found half the city doesn't think officials are doing enough to stamp out the bloodsuckers.
The poll also found 67% of New Yorkers think the best way to discover bedbugs is to see their bites. But scientists say only 50% of people are allergic to bedbug secretions - the rest never develop visible bites.
"There's just not a lot of common knowledge about bedbugs," said Dan Kass, an assistant commissioner at the city's Department of Health.
"We're now at the point with the resurgence of bedbugs that everyone will have to start looking for them."
Bed bugs on the rise in U.S., Las Vegas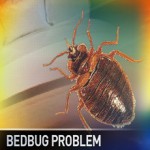 That old saying - "Don't let the bed bugs bite" – is ringing more true than ever in the United States. According to researchers, beg bug populations have increased by 500 percent in the U.S. with Alaska seeing an 800 percent increase just this year alone.
Here in southern Nevada, Gregg Wears with the Southern Nevada Health District says bed bugs are not considered a huge problem but there is always cause for concern.
"When they bite of feed they inject saliva into the wound, which can cause itchiness or puffiness."
http://www.msnbc.msn.com/id/11916682/ns/dateline_nbc-dont_let_the_bed_bugs_bite/
Bed bugs had been shown the "no vacancy" sign in the U.S. for nearly 50 years— they've been virtually eradicated. But now that's all changed. They're back. And they're in expensive hotels and biting the best of people. It's a national problem, agrees entomologist Dini Miller, Ph.D. The Orkin Pest Control company says that after 50 years more or less without them, it's now treated bed bugs in all but three states. And according to the National Pest Management Association, bed bug complaints have increased 50-fold over the last five years. They've popped up in apartments, mansions or dormitories in nearly every corner of the country. Just a few weeks ago, bed bugs nibbled on the traveling cast of a Broadway musical at a Ramada Plaza in San Francisco. Last summer, a young family vacationing at a five-star Westin resort in Hollywood, Florida had the same complaint.
http://www.bbc.co.uk/news/magazine-11165108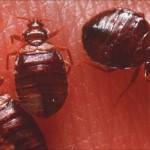 Vampire fiction may be all the rage. But the true bloodsuckers after twilight are not charismatic updates of Dracula but tiny insects living in our mattresses, headboards and pillows. Yes, bedbugs are back and pest controllers are warning of a global pandemic. A recent survey of a thousand pest control firms around the world by the University of Kentucky and the United States' National Pest Management Association, appears to show that the bedbug problem is increasing everywhere. "The results of the global study suggest that we are on the threshold of a bedbug pandemic, not just in the United States, but around the world," said Missy Henriksen, vice president of public affairs for NPMA.
http://articles.cnn.com/2010-07-27/travel/bed.bugs.travel_1_bedbug-infestations-national-pest-management-association-hotel-room?_s=PM:TRAVEL
Not a sanitation problem
While travelers may be horrified to find bedbugs in a hotel room, cleanliness isn't a factor in the pests' arrival.
"It's not a hygiene issue, and that's a very important thing for all consumers to understand," Henriksen said. The American Hotel and Lodging Association echoes that message.
"Bedbugs are brought into hotels by guests; it is not a hotel sanitation issue," the association said in a statement. The increase in bedbugs has had little impact on the majority of hotels, the association said.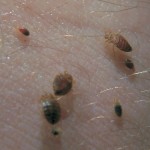 http://finance.yahoo.com/news/Florida-Bed-Bugs-Are-Taking-iw-2769443755.html?x=0
ST. PETERSBURG, FL--(Marketwire - 01/19/11) - Bed bugs were once a common problem all over the world, but due to strong toxic chemicals (that proved harmful to the public health) the incidents declined around the middle of the twentieth century. During the 1970's when environmental standards increased dramatically, the use of DDT was banned as a pesticide and bed bugs gained a foothold once again. Now there is resurgence, a mass revival of parasitic vermin.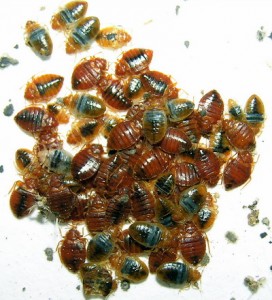 http://www.cbsnews.com/8301-504763_162-20014216-10391704.html
As CBS News reported last month, bed bugs seem to have it in for New Yorkers this year. Office buildings - including the Time Warner Center - have been invaded, and retail stores such as Abercrombie & Fitch, Victoria's Secret and Hollister have all been treated after bedbugs were discovered.
It's difficult to say how many apartment buildings have been attacked, but many residents know one sign of an infected apartment: furniture and clothes that appear to be in perfectly good condition piled on the curb like garbage. When bedbugs attack, sometimes it's cheaper and more effective to throw everything out than to get multiple exterminations.
http://www.nbcphiladelphia.com/news/weird/Bedbugs-Living-In-Bed-Set-Eat-Woman-for-a-Year-101129784.html
Robin Boyd has scars all over her body -- evidence, she says, that was being bitten for nearly a year by bedbugs..
"They're in your boots, they're in your shoes, they're in your underwear. They're everywhere," the woman said.
Boyd claims the tiny bloodsuckers came with the second-hand bedroom set she bought from Aaron's -- a rent-to-own store in Norristown, Pa.
"Got into bed, 4 o'clock in the morning they woke me up. I was bitten everywhere," Boyd said as she recalled the first attack. "My arms, my face, my back, my breasts, my buttocks, my legs."
Robin says her bedbug ordeal caused her lose her hair, lose her job and incur countless medical expenses.
The bedbug invasion is hitting cities throughout the country.
Just this month, officials shut down an AMC movie theater in New York's Times Square after a moviegoer was bitten in her seat.
In Connecticut, bedbugs climbed the pole inside a firehouse and back in Manhattan outbreaks happened at a Victoria's Secret and Abercrombie and Fitch.