Bed Bug Pillow Case Covers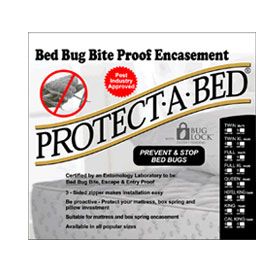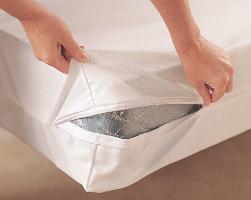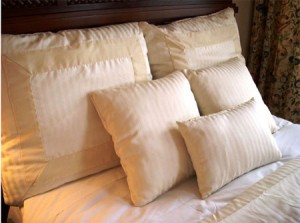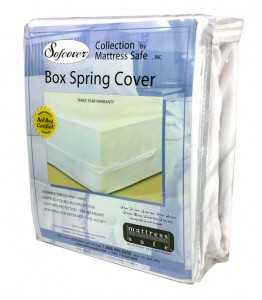 A box-spring (sometimes referred to as a bed base) is a hard sturdy wooden frame, covered in cloth, containing springs or some other form of torsion. Usually the box-spring is placed on top of a wooden or metal bed frame which sits on the floor and acts as a brace. The box-spring is usually the same size as the much softer mattress which is placed above the box-spring. Working together, the frame, box-spring, and mattress make up a bed. It is also common to find a box-spring and mattress being used together without the support of a frame underneath, the box spring being mounted directly on casters standing on the floor. Protect-a-bed Bed Bug Box Spring Encasements are the pest control and hotel industry's choice for protecting box springs against bed bugs, allergens, dust mites, dirt and liquids. These high-quality protectors are trusted by hotels world-wide and have been certified by an entomology laboratory to be 100% bed bug proof. Any bed bugs you seal up in the bed bug boxspring encasement cannot escape or bite through the encasement, and will eventually die. This means you can save your boxspring without throwing it out!
Bed Bug boxspring encasements and mattress encasements are a recommended addition to any bed bug treatment program. You will still need to treat infested areas of the bedrooms. However, because the breeding ground for bed bugs is the mattress and boxspring, you can now just spray and then zip up these critical areas which will eliminate a large part of the infestation. In addition, this can save an infested boxspring so you don't have to throw it out and buy a replacement. Any eggs and/or bed bugs trapped in the encasement will eventually die. Boxspring encasements and mattress encasements are also nice because they provide very few if any places for bed bugs to hide and harbor (compare that with all of the folds, seams, nooks and crannies of a mattress and box spring), and they are clean and white making future investigation and treatment easy. Also consider that if you should find bed bugs on your mattress again at some point in the future, treatment would be as easy as taking off the mattress encasement and washing it in warm water. Again, the key harborage areas for bed bugs would be protected, and so would your mattress investment.
Bed bugs don't only infest your mattress and bedding, they also hide inside your box spring. Protect yourself from bed bugs and dust mites with our box spring protectors.Fuly certified by an in dependant laboratory. Total box spring encasement. Made with Polypropylene and a patent pending "Zipper Hook-Lock" to ensure your box spring stays completely enclosed. Compliment your bed bug mattress cover with this additional protection.