East Flatbush is a neighborhood in the New York City borough of Brooklyn. The area is part of Brooklyn Community Board 17[1] Though the borders of East Flatbush are highly subjective, its northern border is roughly at Empire Boulevard and East New York Avenue east of East 91st Street, its southern border is in the vicinity of the LIRR Bay Ridge Branch, its eastern border is roughly at East 98th Street and its western border is roughly at New York Avenue.
The area was populated post World War II predominantly by immigrant Jews and Italians, then in the 1960s by African Americans, but most recently has seen many West Indian immigrants such as Haitians, Jamaicans, Trinidadians, St.Lucians, Grenadians, Panamanians, Bajans, Dominican, and Guyanese groups coming to the area. Within its confines is the Holy Cross Cemetery, which is located at 3620 Tilden Avenue. While there are some affluent residents present, East Flatbush is mostly populated by working-class Brooklynites. Similar to other eastern Brooklyn neighborhoods, blacks predominate East Flatbush. The area has a population of 84,498 and is 91.4% Black or African-American. [2] East Flatbush is the home of the former General George W. Wingate High School and Gov. Samuel J. Tilden High School. It is also home to three major hospitals, Kings County Hospital, SUNY Downstate Medical Center, and Kingsbrook Jewish Medical Center.
In Summer 2006, the City of New York renamed a portion of Church Avenue from Remsen Avenue to East 98th Street in East Flatbush as Bob Marley Boulevard.[2][3] The former Congregation Beth Israel, now known as Mt. Zion Church of God 7th Day, was listed on the National Register of Historic Places in 2009.[4] East Flatbush is patrolled by the NYPD's 67th[5] Precinct.
Demographics
As of 2000 U.S. Census there 84,498 people living in East Flatbush, with 29,242 housing units. According to the 2000 U.S. Census, the demographics were 91.4% Black or African American, 4.9% Hispanic or Latino, 3.1% White, 1.0% Asian, 0.2% Native American, 1.6% were some other race and 2.6% were two or more races. 72.8% of the residents are High School graduates or higher, 16.3% have a Bachelor's degree or higher. 22.4% of the population speak a language other than English at home. The median household income in 1999 was $37,341, the median family income in 1999 was $43,776 and the per capita income in 1999 was $16,026. 16.0% of the families are below poverty level.
East Flatbush and Flatbush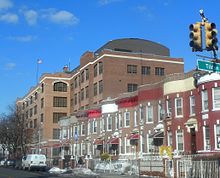 East Flatbush generally is very similar in nature to neighboring Flatbush; so much so that some consider the two neighborhoods to be the same community. Both are predominantly Black, West Indian and working class. The one slight difference is that Flatbush has a higher percentage of White and Asian residents than East Flatbush.
While the demographics are similar, East Flatbush does not enjoy the same level of access to the subway as Flatbush. The BMT Brighton Line and the IRT Nostrand Avenue Line both have a number of stops located in Flatbush. In contrast, the subway at best only skirts the borders of East Flatbush. Many East Flatbush residents take a train and a bus to commute to and from work.
Crown Heights Ditmas Park East Flatbush Flatbush Kensington Ocean Hill Ocean Parkway Prospect Lefferts Gardens Prospect Park South Stuyvesant Heights Weeksville