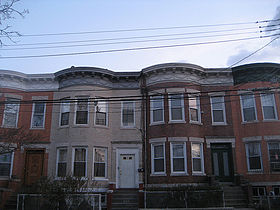 For other uses, see Cypress Hills (disambiguation).
Cypress Hills is a sub-section of the East New York neighborhood in Brooklyn, New York City, lying north of City Line and south of Cypress Hills Cemetery, in the far northeastern corner of Brooklyn. It is abutted on the west by Bushwick and on the east, across the Brooklyn–Queens border, by Woodhaven and Ozone Park. It lies within the 37th City Council District of New York City.
The southern border of the neighborhood is Atlantic Avenue.
Demographics
The northern part, north of Atlantic Avenue, is mixed, with Hispanic-Americans, South Asian-Americans, Caribbean Americans, Italian-Americans, Irish-Americans and other white ethnics.[1][2]
The southern part is composed of African-Americans and Hispanic-Americans, and a scattered presence of South Asian-Americans.[1][2]
Transportation
It is served by the Cleveland Street, Norwood Avenue, Crescent Street, Cypress Hills and 75th Street – Elderts Lane subway stations (J Z trains) on the BMT Jamaica Line of the New York City Subway. Conduit Boulevard passes through the neighborhood.
Libraries
In the south, on Sutter Avenue, facing the Cypress Hills Houses, is a branch of the Brooklyn Public Library. There is also a branch on Arlington Avenue between Warwick Street and Ashford Street.
Northeastward, in the Woodhaven neighborhood, on Forest Parkway, is a branch of the Queens Borough Public Library.
Schools
Franklin K. Lane High School is at the extreme northeast corner of the neighborhood, north of Jamaica Avenue.
P.S. 108 Sal Abbracciamento School is at 200 Linwood Street (on the corner of Arlington).[3]
Blessed Sacrament Elementary School is on Euclid Avenue, between Fulton Street and Ridgewood Avenue.
The Intermediate School, IS 171 is on Ridgewood Avenue between Nichols Avenue and Lincoln Avenue.i.s. 218 & P.S. 72 also right across from the public houses.
The middle school, IS 302 is also a public school, on Linwood Street between Atlantic Avenue and Liberty Avenue. Also, within this school, due to lack of funding, there was a public school ranging from grades K (kindergarten) to 8th grade, P.S.89 (aka Cypress Hills Community School) which has since attained its own school building not far from IS 302 on the corner of Atlantic Avenue and Warwick Street.
P.S 7 sits under the J line in between Crescent Street and Hemlock Street. P.S 65 "The Little Red School House" serves 549 students in grades K-5.
Housing projects of a related name
To the south, more properly in the City Line neighborhood, are the "Cypress Hills Houses," housing projects under the authority of the New York City Housing Authority.
Brownsville | City Line | Cypress Hills | East New York | New Lots | Starrett City